If you are 60 or older, you may qualify to receive coupons valued at $50 to purchase fresh, locally grown fruits and vegetables at local farmers markets through the Farmers Market Coupon Program. Farmers Market coupons are available each spring and are given to qualified recipients in bundles of $2 coupons that can be spent at participating farmers markets.
Farmers Market Coupons
The 2021 Senior Farmers Market Nutrition Program Application is now available!
Please read before completing the Farmers Market Coupon Application:
You must be 60 years of age or older, meet specific income guidelines and live in Missoula County to qualify for the program.
Make sure to complete each page of the application and include your signature and date on the last page.
It's important to include an amount for total household income. If you write "0" the state will not accept the application.
If applying as a couple, each individual must complete a separate application.
Proxy? If you wish, include the name of a person (proxy) to act on your behalf to pick up and sign for coupons or to shop at the markets. We cannot give the coupons to anyone other than you or the person you designate as proxy.
Mail this application to Missoula Aging Services, 337 Stephens Ave., Missoula, MT  59801
Eligible applicants will be contacted by phone in June to inform them when they can expect to pick up coupons.
If you do not have access to a printer, please call Missoula Aging Services (406)728-7682 to request an application by mail.
---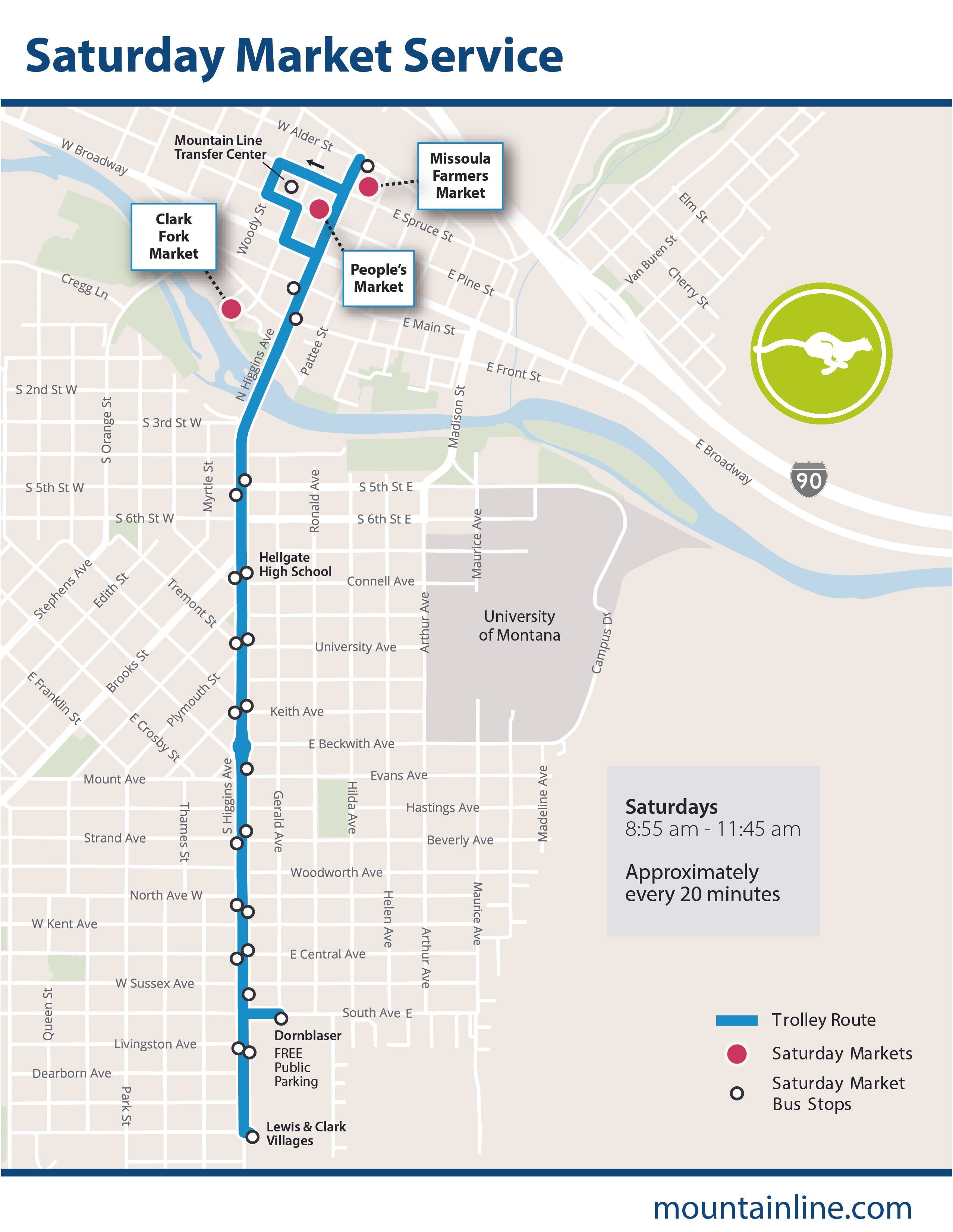 Mountain Line Saturday Market Trolley Service
Mountain Line provides special trolley service to the Saturday downtown markets through September 25, 2021. Trolley service will begin at 8:55 AM each Saturday and run approximately every 20 minutes until 11:45 AM. The trolley runs from the Lewis and Clark Villages and Dornblaser Park and Ride lot down Higgins Avenue to the XXXXs. Riders may catch the trolley at any designated Mountain Line bus stop, as indicated on the special route map. 
All Mountain Line services are zero-fare. Masks are required for all riders over the age of two. Trolley service will run from May 8 through September 25. More information at mountainline.com/maps-schedules or by calling (406)721-3333.