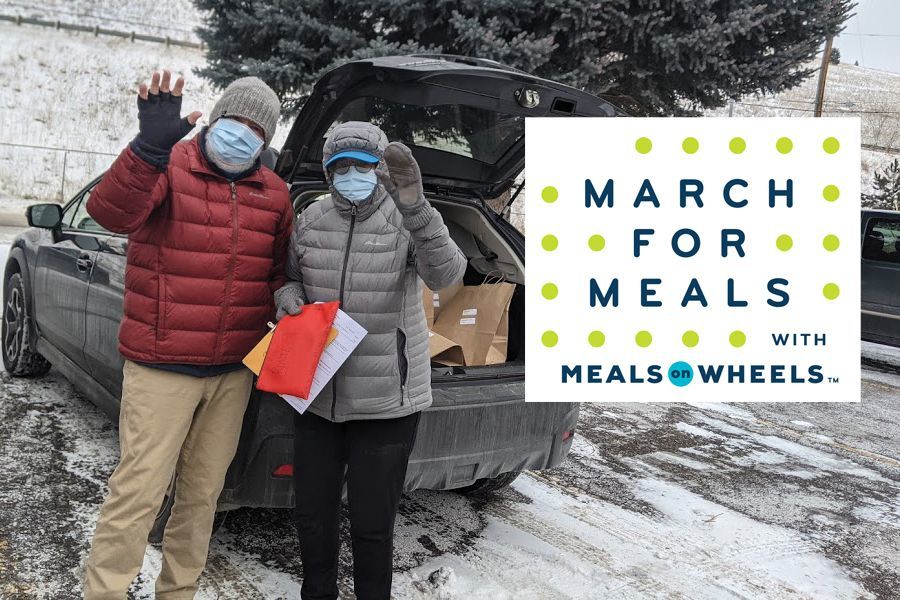 MARCH FOR MEALS: MORE THAN JUST A MEAL
March 1, 2022
While most Meals on Wheels (MOW) volunteer drivers hop into their car and complete their routes solo, Richard and Elisabeth keep each other company during their weekly shifts. Married for 57 years, the couple started delivering meals together in October 2019. They were moved to volunteer at MOW and at the hospital after Richard experienced a significant health issue. Giving back became part of his healing process.
"To have this kind of contact with healthy people who are about our age, doing something that has a meaning to our community is so important," Richard said.
In the fall of 2019, Elisabeth and Richard were quickly welcomed into the MOW family and joined in on the routine: each weekday morning drivers would gather at dispatch, enjoy good coffee and chat before it was time to get on the road.
When COVID-19 hit, that changed.
In order to protect both volunteers and clients, drivers began social distancing. Some drivers, for their own safety, had to stop volunteering altogether. Instead of meeting in the Dispatch office, volunteers now stay outside, waiting to load up meals and start their routes. Even though they missed the social aspect of volunteering, Richard and Elisabeth still looked forward to doing their weekly Friday route.
"We'll both tell you: we get as much if not more out of it than the clients do. There aren't a whole lot of things anybody can do right now like we used to do so this is one of our really joyful mornings," Elisabeth said after a Friday route.
"It became even more important for me to do the route because the other things that we enjoy doing we could not do," such as volunteering at the hospital, Richard said.
While Meals on Wheels has had to adjust some things in the interest of safety, the dedication of the drivers hasn't changed. Richard and Elisabeth go above and beyond, waiting in their car or outside at a safe distance to make sure that clients are able to access their contactless deliveries. And while Richard no longer stops inside to chat with clients, he's found safe ways to still give them that important check-in, such as chatting and joking through the front door.
"With the virus, it really made it absolutely essential for me to have something to get up for and feel that when I've done something, I've done something that has meaning." Since the pandemic began, MOW has experienced a 66-percent increase in the need for services. It is the dedication and compassion of volunteers like Richard and Elisabeth that has made it possible to meet the demand. Thank you!
When you give to Meals on Wheels, your gift is delivered with kindness.